The Hugo nominees were announced live at Eastercon (as they were last year, and hopefully will be again). Vince Doherty started the announcements with some graphs and stats, and showed that this year, more people nominated in the Hugos than ever before. He followed it up with the announcement of the fan Hugo categories, and after I had finished applauding for all my friends who were nominated, I realised that the Best Fanzine slate was basically the same as last year. Best Fan Writer has at least one new name and a second-time nominee, and Best Fan Artist has some new nominees (notably Randall Munroe), but the record nomination numbers have failed to have much impact at all. After StarShipSofa's win last year, I was expecting a flood of podcasts on the ballot, but then I've been expecting a flood of blogs to replace fanzines for the past few years, and that hasn't happened.
Aidan Moher at A Dribble of Ink comments further on the fan Hugos: "Maybe I'm exposing my ignorance here, but beyond StarShipSofa, I haven't heard of a damn one, nor am I familiar with any of the writers." Three of the best fan writer nominees have already popped up in comments, so I'm not sure that the fan-writing pool really is largely composed of "older fans whose interaction with the SFF blogosphere is limited", but wherever their fan writing is taking place, be it in fanzines paper or electronic or on blogs, it seems to be invisible to a large amount of the blogosphere. I know who all the best fan writer nominees are and I am neither old nor ignorant of the blogosphere, but I seem to be in a minority. Do all the blog readers who nominate in the Hugos just not nominate blogs, or do they fail to nominate at all?
It's not just the fan Hugos which have remained static: Semiprozine has one difference from last year, as Lightspeed knocks off Ansible, in Best Editor Short Form John Joseph Adams bumps Ellen Datlow, and the slate for Best Pro Artist is exactly the same as 2010.
N. K. Jemisin tweeted she was "contemplating what it means that this year's Hugo noms came fom a record-breaking number of ballots". And actually, we have some statistics for this year's nominations already, and those for previous years are (mostly) available, so I have indulged in my favourite nerd hobby and made us some graphs to see what we can tell. (Raw data is in this spreadsheet.)
Here's a graph showing the total nominations in each category for the last nine years[1]: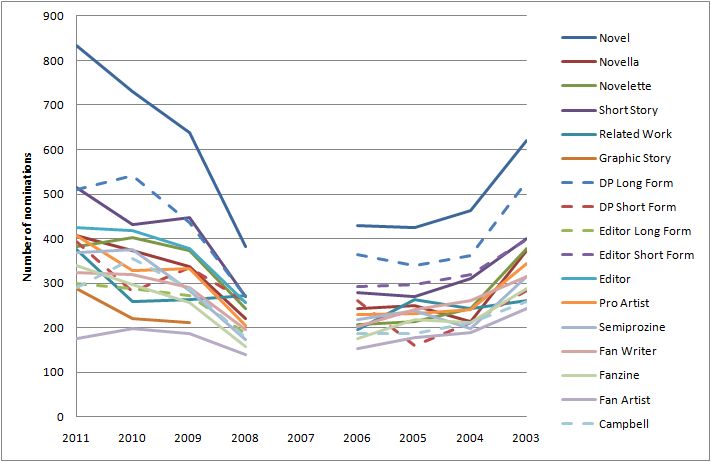 From which we can conclude that while there may be more people nominating that ever before, a lot of them only nominate novels. There's a general upward trend, and it's more pronounced in some categories (short story is up a bit, and it's nice to see an increase in nominations for graphic story), but best novel is racing ahead.
It may not be a huge increase in the number of nominators, but there's still a bump for most categories. Take best fanzine, which has gone from 157 nominators in 2008 to 340 in 2011. Does that mean it it harder to get on the ballot? The answer is yes, but not by much.
Here's a graph showing the number of nominations the lowest-placed nominee received in each category over the past nine years: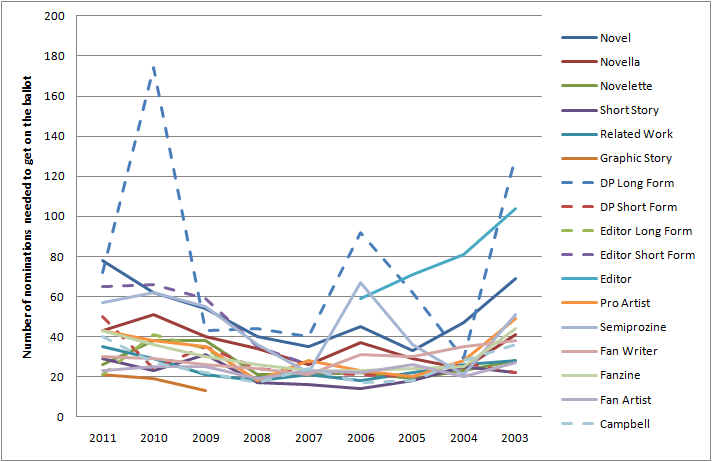 From which we can conclude that 2010 was an absolutely stonking year for genre film. Outside the wild oscillations of BDP-LF, there's not a lot of change in many of the other categories. Making the best fanzine ballot required 43 nominations this year, one less that way back in 2003. Best Graphic Story had 30% more nominations this year, but you only needed 2 more nominations than last year to get on the ballot. (For me, it only underlines the madness of Best Graphic Story that Scott Pilgrim's Finest Hour couldn't muster 21 nominations.) More nominating ballots just means more diversity in what gets nominated – witness Best Short Story, which got more nominating ballots than any year I have data for, and yet there are 4 nominees because no other story got the required 5% of nominations. It's good to have a large voting pool and a large amount of nominees to vote for, but the consensus still forms around the same nominees as before.
And meanwhile the debate on what fanwriting is and isn't, and what constitutes a fanzine, and whether we're too insular and unwelcoming or just upholding fine fannish tradition is already ongoing on the internet, as I expect it to continue breaking out every year about this time until there's a successful motion to change the rules or we get the heat death of the universe. I don't have any good answers. I'd like to see more variety in many categories – there are certainly blogs I'd like to see in best fanzine – but I don't want variety for variety's sake. I recognise, as Moher mentions, that there is excellent writing in online venues, but I wouldn't want to see blogs with a greater audience knock fan writing as fine as the writing in Banana Wings off the ballot.
And it's worth being reminded that even as we have these discussions in the SF bit of the blogosphere about fanzines and fanwriting, there are whole other swathes of fandom out there wondering why we picked "Fuck Me, Ray Bradbury" instead of a million other fanvids.
[1] Stats note: I can't find the total nomination figures for 2007, only the figures for each nominee. Also, the figures for 2010 may not be exact, as they were calculated from the percentages and number who nominated the top nominee in each category, so they're probably off by one or two.